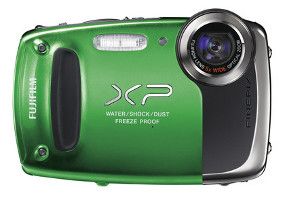 Fujifim add to the ranks of its waterproof compact camera. XP50 and XP150 is ready to friends are fond of traveling photographers being outdoors and water activities.
XP50
Hold in water depths up to 5 meters, the hardiness of the height of 1.5 meters and hold the temperature to 10 degrees Celsius are the hallmarks of XP50. It was equipped with a 14.5 MP CMOS sensor and new image processor which is claimed. For its ISO sensitivity, XP50 capable of reaching 3200.
Designed for outdoor shooting, 5x wide-angle lens which has already covered this device waterproof coating. The camera is available in black bandage, blue, green, orange and silver has also been able to do 1080p HD video recording with 30fps.
Judging by the back of the body, this device has a 2.7 inch LCD screen with anti-reflection coating. For pricing and availability, there has been no further information.
XP150
Turning to the second camera is tougher FinePix XP150. Just like the previous model, it is also a waterproof cameras, shockproof, dustproof and freezeproof.
Able to survive in water depths up to 10 meters and resistant to fall from a height of 2 meters. He also still be able to work at temperatures up to 10 degrees centigrade.
GPS antenna with high sensitivity has been added. Quoted from TechRadar, Thursday (01/05/2012), this GPS also serves as an electronic compass and Photo Navigation.
Sensors measuring 14 million pixels and 5x optical zoom to be another attraction of this camera. To help reduce camera shake, is already equipped with a sensor shift image stabilization.